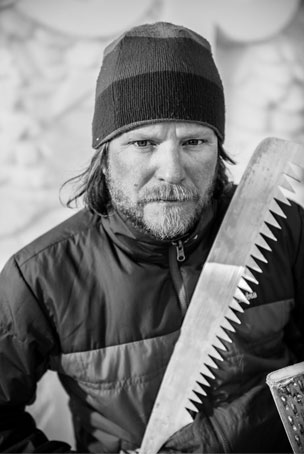 I lived on a small farm in Michigan growing up and spent a lot of time outdoors. When my family packed up and moved to Ohio my freshman year of high school, I found my whole life flipped upside down. It was at that time I found a new escape indoors, during art class.
I made it through high school with no direction to go and moved on to work in construction, also as a mechanic and a tow truck driver. But my creative side kept calling and at age 26 I found a new direction. I stumbled onto the idea of going to culinary school.
During that time I found myself and what it was that made me happy. We were all given a block of ice to carve and I immediately fell in love with the idea. Here is a medium, ice sculpture, that allows the public to enjoy a creation for a limited time before it melts away. I carved a fish out of that block and have been hooked ever since.
The culinary field took me to new places in life. I moved to Breckenridge Colorado in 2001 and continued on my way in life. Here is where I found my next level of art. Across the street from where I lived they held the Breckenridge International Snow Sculpting competition. From the first day I saw the event, I knew that was what I wanted to do. It took several years and a lot of social networking, but finally I was able to join team German in 2006. We took bronze that year and I once again was hooked.
Since then, snow sculpting has taken me all over the world. I have seen places that I would have only dreamed of going before. I also have endless opportunities to go to new ones.
I have been snow sculpting for years now and couldn't be happier. I tell people that you either see or you don't. I see it in the block and carve to set it free.